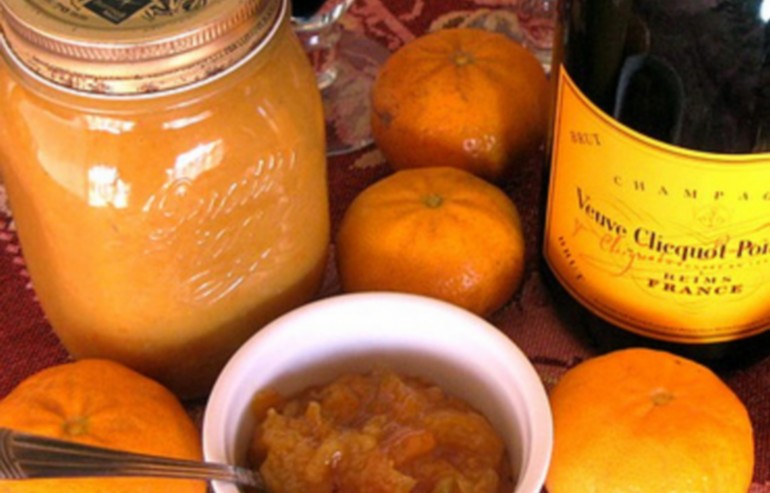 Cooking delicious dishes for our friends and family is one of the things that I and Marika love doing during the Christmas holidays.
We thought of starting the New Year with a recipe that has been very successful: mandarin marmalade, with ginger, cinnamon and Veuve Clicquot champagne. We love all Italian recipes with champagne or wine!
The beauty of this recipe is that we used the Veuve Clicquot champagne leftover from Christmas Eve. To tell you the truth, there was not much left over, but it was enough to make this marmalade fantastic!
INGREDIENTS
2 lb organic mandarins
1 lemon juice
1lb brown sugar
18 fl oz water
1 tsp grated ginger
1 tsp cinnamon
2tbsp Veuve Clicquot Champagne
PREPARATION
Wash the mandarins and peel them. Cut half of the peels in small strips.
Cut the mandarin inside in small pieces (you are free to remove the seeds. We don't do that because seeds are full of pectin and we don't mind finding them in our marmalade).
Boil the water with sugar, until the sugar is completely melted. Add the peel strips, mandarins and lemon juice and cook over medium heat for about two hours, stirring so that the marmalade does not stick.
Add the grated ginger, cinnamon and the Veuve champagne and keep cooking at low flame for other 15 minutes.
This marmalade is perfect to be eaten by itself on top of bread, or with cheese.
What is your favorite dish you make with leftovers?