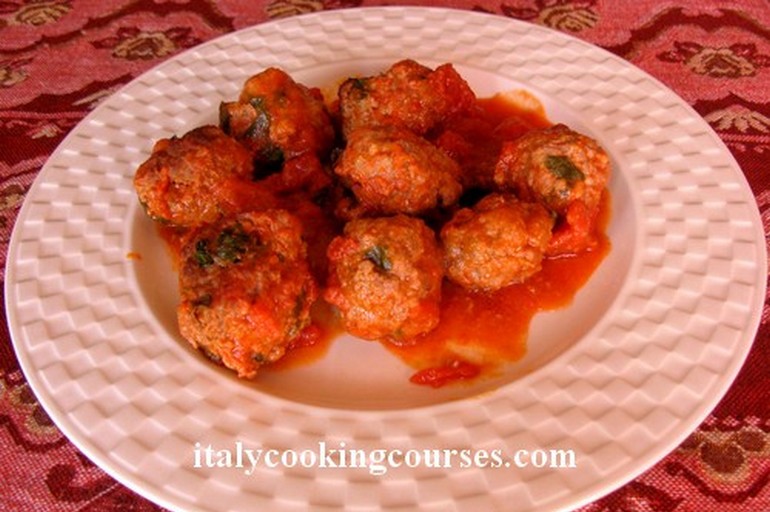 There is no other day of the week, that I love as much as Sunday.
It's the day when Marika does not have to go to the hospital (for work! of course) so she can make all her delicious Italian recipes and food. She usually wakes up early, goes on a bike ride and then in a couple of hours she is able to arrange a 5-course meal for the traditional Italian Sunday meal we have with the whole family.
When we were young our Grandmother used to cook the Sunday meal. Until a few months ago it was our Mother's turn. Now it's Marika's (but I also help!).
Since we were very young, our family has always had meatballs with tomato sauce on Sunday. I and Marika would wake up with the smell of those fantastic meatballs slowly cooking in the tomato sauce. I think the first Italian word I learned to say was "polpette".
I and Marika both learned cooking with our Grandmother. However, we all agree that Marika's dishes taste exactly what our Nonna used to make. I really don't know how she does! But it must be due to the fact that cooking is more than a passion for her….and passion and love are two ingredients who make the difference.
So today is Sunday….and Marika made these fantastic home-made meatballs with tomato sauce. You may say: everybody in Italy makes meatballs on a Sunday or… everybody knows how to make them. But I can tell you that they are really worth a post on our blog. They were incredibly good. And in fact they were all gone pretty soon. This is our family's recipe.
Marika's Sunday home-made meatballs
INGREDIENTS
1 lb minced beef meat
1 whole egg
3 1/2 oz parmigiano reggiano cheese
3 1/2 oz durum wheat breadcrumbs
milk (as necessary)
1/2 tsp sea salt
good pinch nutmeg
pinch black pepper
1/2 cup chopped fresh parsley
6-7 fresh mint leaves
18 fl oz fresh tomato sauce with onion and basil
Before the preparation, there are a few secrets for this meatball recipe that our Grandmother taught us and we want to share with our readers.
First, at the butcher shop, make sure the piece of meat you choose is minced in front of you. Second, do not use powder breadcrumbs but use good quality stale bread. Third, moisten the bread with milk (not water).  Fourth add fresh herbs (parsley, mint or basil) as they give much more flavor. The last and most important thing, once you make the balls, let them rest (so they absorb all the flavors) for a few hours before cooking them in the tomato sauce. The "resting" part is key.
PREPARATION
Put the minced meat in a bowl. Then add the egg and grated parmigiano cheese and start mixing with your hands.
In another plate, moisten the durum wheat bread with milk. Slowly add the moisten bread to the meat while mixing. Finally, add the chopped parsley, sea salt, black pepper, a good pinch of nutmeg and the mint leaves in small pieces.
The mint leaves add freshness and make the difference!
After you mix all the ingredients together, make some little balls with your hands. Put them on a tray and let them rest for at least one hour.
As always, Marika adds her healthy twist to all our family recipes. Therefore, she does not fry her meatballs before cooking them in the tomato sauce.
On the side prepare a fresh tomato sauce with basil. Slowly add the meatballs to the tomato sauce and cook them for about 40 minute-1 hour at low flame with the lid. Do not forget to stir them if necessary.
As always, enjoy them with your friends and family.
Do you have any traditional food your family makes on Sunday? What is your meatball recipe?