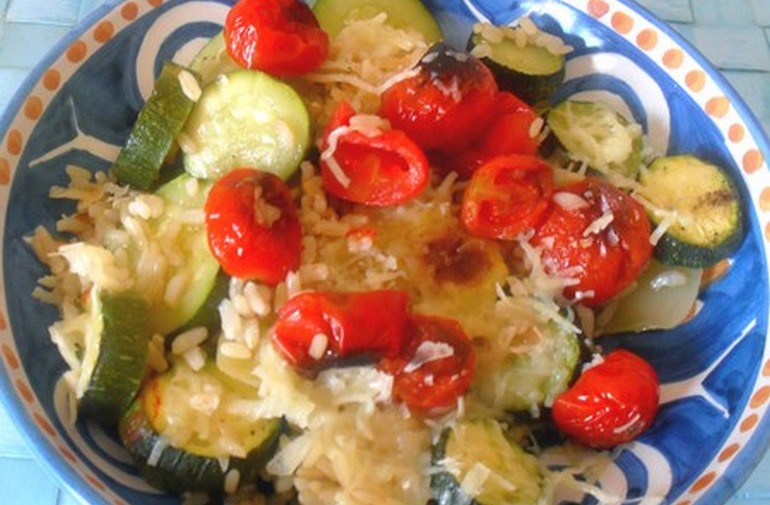 In three days the World Cup starts and everybody in Puglia is getting ready for it with lots of good luck rituals!
You may know that in Southern Italy we are very superstitious.
I and Marika will make this simple and delicious recipe to support our Italian team!
It is made with rice, potatoes, zucchini and tomatoes.
We chose this recipe because it has the Italian flag colors (white, green and red). We chose a blue plate like our Italian team's t-shirt! We chose it because it also because it is a very simple Italian recipe. We make it very often and we love it!
The deal is that if we win the first match on June 14th, I and Marika will be making and eating rice, zucchini and tomatoes on all the following matches …..until the final on July 11th!
RECIPE
4 servings
INGREDIENTS:
– 5 small potatoes (small size)
– 3 zucchini
– 7 oz rice
– 15 cherry tomatoes
– 1/2 white onion
– pinch of sea salt
– a few mint leaves
– pinch of black pepper
– 1 3/4 oz cacioricotta goat cheese
– 1 tbsp extra virgin olive oil (intense fruity)
– 1 carrot
– 1 small onion
– 1 celery stalk
– water for the vegetable broth (as necessary)
PREPARATION:
First, prepare the vegetable broth, by pouring water in a pan and adding the carrot, onion and celery. Bring to a boil.
In a baking pan place a layer of potatoes, very thing sliced.
Add a layer of sliced zucchini, the mint leaves and the half onion, very thin chopped.
Add a layer of rice, the black pepper and the sea salt.
Top the rice with the halved cherry tomatoes.
Cover everything with the vegetable broth.
Bake in the oven for 30 minutes at 350°F.
Once it is ready and still warm, add the grated cacioricotta goat cheese on top.
Serve adding the intense extra virgin olive oil on top.
And you, what recipes are you making for the World Cup?