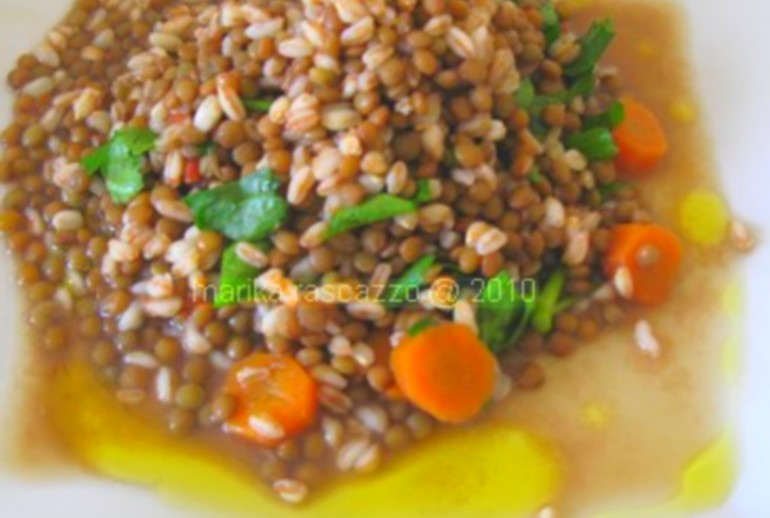 There is one dish that cannot miss on Italian tables at midnight on December 31st.
This is the Lentil soup! Because they resembled coins, in the past they were thought to bring financial prosperity in the year to come. Nowadays, we associate them to general good luck, in any field. I and Marika had lentils for three days in a raw….just to be sure!
 Usually lentils are prepared with cotechino (pork).
Instead, I and Marika prepared a much healthier recipe with lentils, orzo and extra virgin olive oil.
Really easy and really delicious! This is one of the most traditional recipes from the Puglia food tradition.
INGREDIENTS
1 lb lentils (the very small)
1 lb orzo
2 carrots
parsley
extra virgin olive oil
sea salt
chilly pepper
RECIPE
Soak the lentils overnight and then rinse them. Put in a pan with the orzo and cover with water. Add the sliced carrots and cook at low flame for 1 hour and half while stirring and adding water if necessary. Add sea salt and chilly pepper.
When ready switch them off and add parsley and extra virgin olive oil.
The extra virgin olive oil is the key ingredients for the success of this recipe. It must be intense fruity and bitter.
During our cooking classes in Puglia we teach in more details how to taste the extra virgin olive oil and how to pair it with food.
 
What are your New Year's culinary traditions?
WE WISH A WONDERFUL 2010 AND NEW DECADE TO ALL OUR READERS!