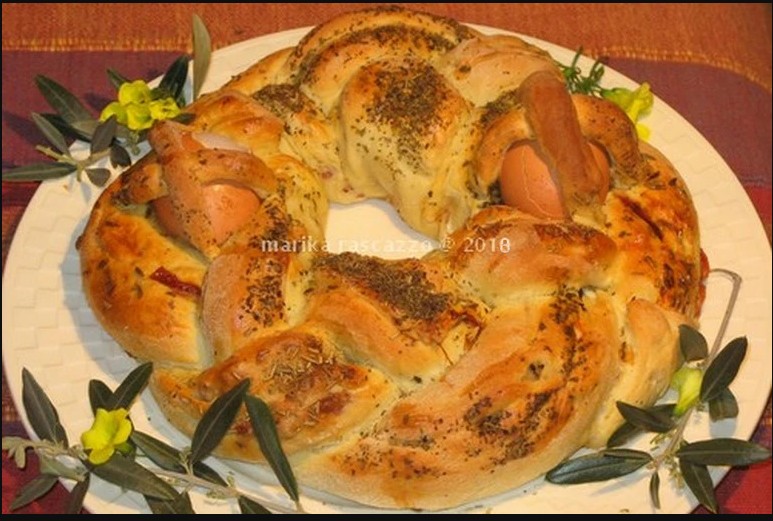 In Puglia we have many traditional foods that are only prepared during the Easter week.
And each Italian region has different Easter food traditions.
What we like about about our Easter recipes is that they are simple and made with very local and seasonal ingredients.
One of the most traditional foods is the Easter bread with hard-boiled eggs inside.
Wheat is a symbol of life and of the cycle of rebirth and fruitfulness. Eggs are a symbol of rebirth and new life.
This is an ancient recipe. The Greeks were already making stuffed bread and the Romans were donating bread and eggs to their Gods to celebrate Spring.
This bread has the shape of a woven garland, topped with eggs and with lots of "surprises" inside!
The bread can be stuffed with everything we like or have at home: cheese, ham (or salami), or with olives, tomatoes, onions and….of course our delicious capers!!! (people who have attended our programs in Pugliaa know that capers are used everywhere!).
For this bread, like all breads and pasta we make in Puglia, we would never use white whole purpose flour. We always follow the healthy Mediterranean Diet as we know the importance of eating a balance diet that also includes complex carbs rich in fiber.
For more information about the importance of eating a balance diet that also includes complex carbs please check the ebook that Marika and I wrote. where you'll learn how the Mediterranean Diet works and why it has so many health benefits.
Many people, who are not celiac, think it is not healthy to eat bread or pasta. But it all depends on what flour is used. If you use whole wheat flour, or farro flour, barley flour, oats flour, it is actually healthy to eat bread and pasta as they are whole grains rich in fiber.
Some people think that getting fiber from vegetables and nuts is enough, but not all fiber is the same.
Lots of research demonstrates that the avoidance of whole grains by people who are not celiac may affect cardiovascular risk, or hepatocellular carcinoma or risk of colorectal cancer and that eating approximately three servings (90 grams) of whole grains daily reduces the risk of colorectal cancer by 17%.
A study of 25000 people, showed that higher cereal fiber intake was inversely associated with diabetes risk, while fruit fiber and vegetable fiber were not significantly associated.
A Lancet study shows that consumption of whole grains offers a useful means of increasing dietary fibre intake and reducing risk of heart disease, stroke, type 2 diabetes, colorectal cancer, and death.
Even though data say that people are moving from low-quality (refined) carbs to high-quality carbs, people still seem to be eating too many low-quality carbs.
A Lancet study across 195 countries shows "that suboptimal diet is responsible for more deaths than any other risks globally, including tobacco smoking, highlighting the urgent need for improving human diet across nations. Although sodium, sugar, and fat have been the main focus of diet policy debate in the past two decades, our assessment shows that the leading dietary risk factors for mortality are diets high in sodium, low in whole grains, low in fruit, low in nuts and seeds, low in vegetables, and low in omega-3 fatty acids; each accounting for more than 2% of global deaths.
Moreover, tt's important that we eat whole grain fiber to maintain a healthy gut as the health of our digestive system also improves our immune strength.
Whole grains like oats and barley contain B-Glucans which can improve our immune system and strength.
Italian Easter Bread recipe:
-600 grams (1lb 5oz) whole durum wheat semolina (you can also mix it with farro flour or barley flour, oats flour etc)
-350-400 ml (11fl 83oz – 13fl 52oz)  water
-12 grams yeast (you can also use sourdough yeast if you prefer)
-1 tsp of sea salt
-3 tablespoons of extra virgin olive oil (Equilibrium or Green Season)
Ingredients for the filling and decoration:
-3 eggs
-4 slices of salami
-3 slices of cheese (emmenthal, or gruyere or something you can slice)
-10 olives
or for a vegetarian version you can use: 5 red tomatoes; 10 olives; capers; half onion
In a cup, melt the yeast with 350ml of water.
Put the flour in a bowl and add the water with yeast. Start kneading the flour and if the dough is too dry add the remaining water (the amount of water you need depends on the flour you use and room temperature so add it little by little).
Add 3 flat tablespoons of extra virgin olive oil and 1 tsp of sea salt.
Mix everything with your hands until when the dough is perfectly soft and elastic.
Let the dough rise for at least 2-3 hours (or for longer if you have more time).
Keep a small piece of dough on the side. Then, divide the remaining dough in three parts.
The three parts will be used to make 3 strips and then a braid. Each strip will be stuffed with a different filling.
Therefore, using a rolling pin, turn the three pieces of dough into three long not too thin strips.
Put a different filling in the middle of each strip: you can use the salami (chopped in small cubes) for one strip; the cheese (cut in small cubes) for another strip; the olives (cut in small pieces and without pits) for the third strip. Or you can do a vegetarian version for all the three strips.
Close, pinch and roll up each strip, keeping the filling inside.
Make a braid with the three strips. Join the two sides of the braid, making a circle (or a garland).
Then wash two uncooked eggs and place them on two sides of the garland.
With the remaining small piece of dough that you put on the side, make four flat short strips. Make a cross by placing 2 strips on top of each egg.
Put the garland in a baking pan that you previously oiled and floured.
Let the bread rise again for other 30 minutes.
Then beat an egg and brush it on the garland. It's optional to put on top of the garland pumpkin seeds, oregano, poppy seeds.
Bake it in pre-heated oven at 180°C (350°F) for 40-45 minutes .
Serve warm.
 What traditional Easter foods do you have?