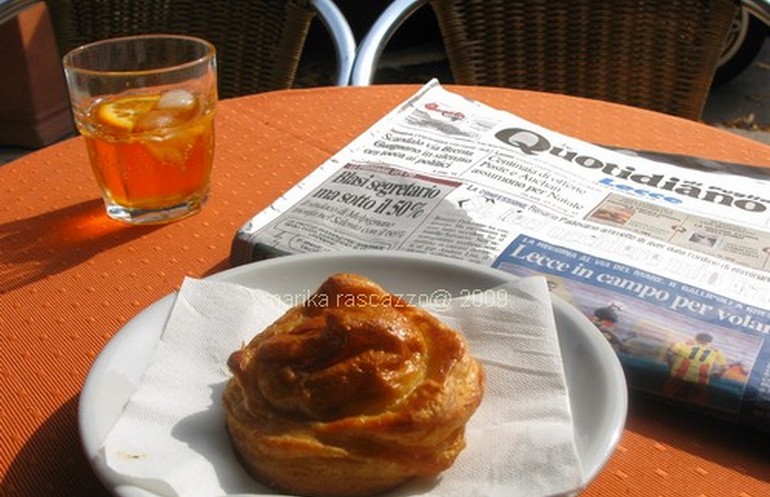 If you want to look very local in Lecce, you need to have an Italian aperitif, before lunch, in the Sant'Oronzo square, like all the Leccese people!
Every day, at 12:0'clock an opera singer announces it is noon….and so aperitif time for the true Leccese people! we go to the Sant'Oronzo square to meet our friends, enjoy the sun and ….of course our aperitif before lunch.
The typical aperitif in Lecce is based on a "Rustico" and a drink, which is known as "bitter Campari".
Rustico is a savory pastry made of pasta sfoglia (puff pastry) stuffed with mozzarella, tomato sauce, bechamel, black pepper and nutmeg and then baked in the oven.
It has a round shape with a diameter of 12 cm.
Rustico is something you can only find in Lecce and in the Salento area. In no other parts of Puglia or Italy you will find a Rustico.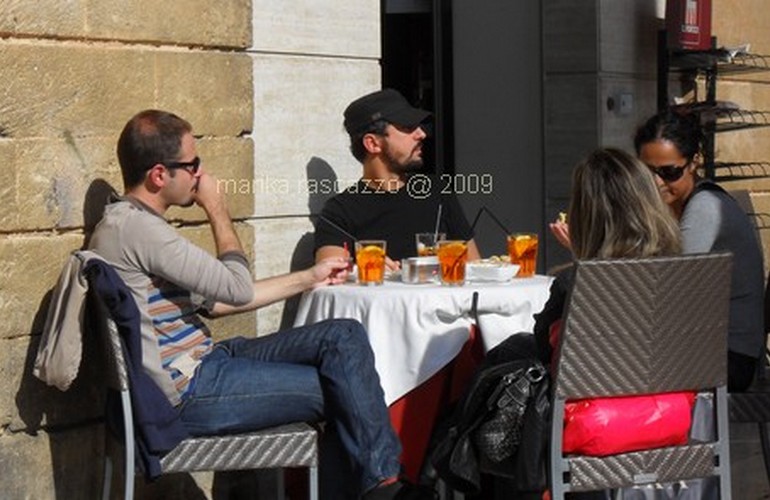 Bitter Campari is an orange, non-alcoholic drink usually served with ice and a slice of orange. It reminds us of the English pims, but there is no mint and cucumber in it. It is also a bit bitter, that's why it is called the "bitter Campari".
Any coffee bar in the Sant'Oronzo square would be perfect for a rustico.
All the coffee bars would have the very local newspaper "Il Quotidiano" where you may find only news about events happening in the Lecce area (from politics, to economics, events etc).
Of course the most followed news are:
-Lecce soccer team
-weather in Puglia
-Horoscope!
-Lottery numbers