What a fun day today! My sister and I got together and made fresh orecchiette pasta!
Orecchiette pasta is the typical pasta course we have on a Sunday lunch in Puglia.
We started making the orecchiette at 9am so that the pasta had enough time to dry before lunch
In Italian, "orecchietta" means little ear.
There is no other way to make the authentic orecchiette pasta, than by using a blunt-ended knife, a wooden board and….. your thumb!
No machine please!! and no other sort of kitchen tools to make the typical "hat" shape.
The shape of the orecchiette pasta is completely different depending on if you are in the North (Bari area) or in the South (Lecce area) of Puglia.
In the Lecce area, we eat the orecchiette with the
tomato sauce
(made with basil and peperoncino) and the cacioricotta cheese (either goat or sheep). Therefore the orecchiette look like hats, because we want to collect as much tomato sauce as we can! And people who took our cooking classes know how good our tomato sauce can be!!
The size of the orecchiette pasta is completely different from town to town, even 3 km apart!
The very traditional hand made orecchiette are made with whole durum wheat semolina mixed with some barley flour. The dough is a little bit harder to knead when you add barley (or farro), but the resulting pasta has so much more flavor and a fantastic texture!!
Whole durum wheat semolina and barley are complex grains rich in fiber, Vitamins and minerals than refined flours. They both have a low glycemic index which very few people take into account when they make bread or pasta (many people make bread or pasta with 00 flour, or all purpose flour!)
Eating carbs is very important but we need to eat carbs that are not refined and rich in fiber.
In Puglia we only use complex grains to make both pasta and bread and this is one of the many reasons why the Mediterranean Diet is so healthy and why eating a small portion of pasta and bread is considered healthy when made with these unrefined flours.
The fact that eating whole durum wheat pasta is so healthy (my sister, as a Cardiologist, confirms!), ….did not make us feel guilty when we served a bigger than usual portion of orecchiette at lunch today. We promise we only do it on special occasions.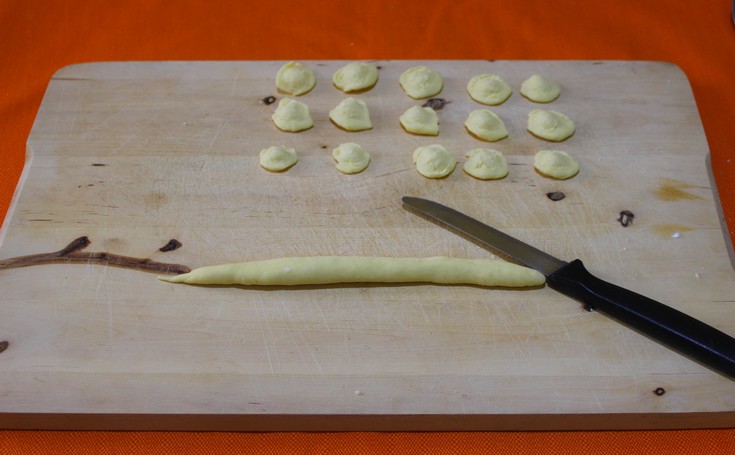 RECIPE:
4 servings
10oz orecchiette pasta
1/2 onion
1lb fresh ripe tomatoes
chilly pepper
fresh basil leaves
sea salt
1 tbsp extra virgin olive oil
grated cacioricotta pugliese cheese
PREPARATION
Follow our instructions on how to make our family style fresh tomato sauce, using the olive oil, onion, fresh and ripe tomatoes, sea salt, basil and chilly pepper.
In a large pan, bring to boil lots of water with sea salt. Please DO NOT add any olive oil to the water, because orecchiette pasta is made without eggs.
Then add fresh orecchiette pasta to the water and cook for 4- 5 minutes until the pasta is al dente (or 10 minutes if the orecchiette are very dry).
Drain the pasta and in a bowl mix the orecchiette with the tomato sauce.
Add the grated cacioricotta pugliese cheese on top.
Serve right away!
Accompany with Negroamaro wine from Puglia.
BUON APPETITO!