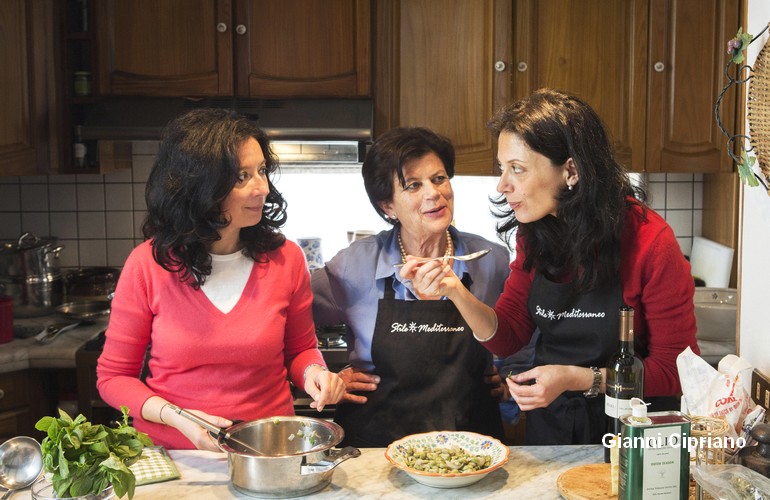 We provide one week health and culinary retreats in Puglia and other Italian regions.
During our programs, students learn our unique Stile Mediterraneo – Mediterranean Lifestyle – method that allows people to eat consciously and live a balanced lifestyle.
Our method was developed by our team of food experts and doctors and is based on the latest medical research as well as the authentic and ancient Mediterranean diet, one of the healthiest in the world according to Harvard Medical School.
The Mediterranean diet also became Unesco World heritage because of its uniqueness and because of the role of women around the Mediterranean countries. While handing down recipes from mother to daughter for centuries, they preserved a set of values that go beyond food and that are key for a healthy, happy and balanced lifestyle.
OUR STORY
In 2007 Cinzia Rascazzo (food and olive oil expert, social entrepreneur, Harvard MBA) and Dr. Marika Rascazzo (full time cardiologist) founded the Stile Mediterraneo Food & Lifestyle Academy in Puglia Italy.
Their goal was to celebrate the role of Southern Italian Women in preserving such an important way of eating and living (no men have ever been allowed into a Southern Italian kitchen!). They also wanted to contribute to the promotion of the authentic Mediterranean cuisine that is at risk of becoming extinct due to the media influence of other processed foods and unhealthy and fried cooking methods.
The New York Times celebrated the role of Stile Mediterraneo Academy in promoting such an ancient and healthy cuisine.
What is taught at the Stile Mediterraneo Academy is based on the medical research and principles that Dr. Marika Rascazzo wrote about in her e-book: The Cuisine of Southern Italian Women – Mediterranean Secrets for a Healthy & Happy Life.
Based on their food and medical expertise, the two founders put together the unique Stile Mediterraneo method that requires the combination of: highest quality extra virgin olive oil and ingredients; a slow cooking method; a healthy and balanced lifestyle.
In 2014, Cinzia Rascazzo also founded Artisans of Taste providing educational field trips in order to teach people how to apply this method outside Puglia and promote all the small artisans (not only in Italy!) who make a huge contributions to the world.
From select food and wine producers, to chefs and non food producers, all artisans are chosen according to very strict quality and health criteria. During the educational field trips, students have a unique chance to go to the source of taste, see first hand what happens at the origin and meet the real local experts.
We want to turn people into conscious consumers who know how to eat well and live well.