[eo_events group_events_by="series" event_category="Puglia Accommodations"]
Please contact us for other select accommodations are located in Lecce, Gallipoli, Otranto, Brindisi, Ostuni, Cisternino, Locorotondo, Polignano a Mare, Trani, Bari, Gargano area, Alberobello, Martina Franca, Matera.
ABOUT PUGLIA
Puglia is definitively one of the best regions in Italy for culinary and wine holidays. During our courses you will also have a chance to visit Puglia and experience all beauties it has to offer.
Puglia is located in Southern Italy and is also known as the Italian heel. There are several reasons why you should come to Puglia. One of the most important is Puglia wonderful weather.
Because of its climate, Puglia produce excellent wines and fresh food. If you go to the countryside, you will see miles and miles of beautiful vineyards and millenary olive trees (some of them have up to 2000 years).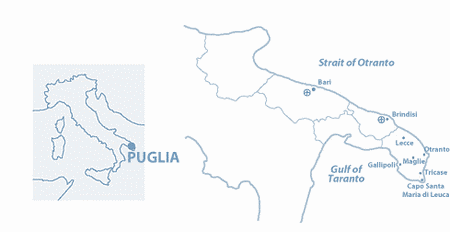 Any season is good to come to Puglia: in the winter you can visit the many historic centers, attend all the food and wine fairs and events. In the spring you can go around the many delicious fruit and vegetable markets or eat sea urchins and raw seafood by the sea or have a burrata mozzarella cheese freshly made in front of you. In the summer you can go to have one of the best ice creams in Italy. In the fall you can come to attend the grape and olive harvests, taste excellent wines and learn everything about the fruity olive oils from Puglia.
I would avoid August when all Italians go on holidays and the Northern Italians come to the Puglian beaches. Prices go up and all places become crowded and touristy.
What makes Puglia such a charming and interesting region, is the fact that it's full of history and at the same time the cuisine and wines are so excellent and interesting. Being surrounded by the sea, Puglia has had all the dominations: from the Greeks, the Romans, the Turks, the French, the Spanish. All of them left their influences in the architecture and most of all in the wines, olive oils and food.
There is no other region in Italy where you can find such a delicious Mediterranean and home made cuisine. This cuisine is so healthy and simple because it is made with the freshest and in season ingredients. Puglia in fact is also known as the granary of Italy (because it produces durum wheat semolina used to make the famous fresh pasta orecchiette), or the garden of Italy (because it supplies fruit and vegetables to most of Italy and Europe), or the wine cellar of Italy (because it is one of the biggest wine producers in Italy).
Other nice places not to far from Lecce that we would recommend visiting, include: Alberobello, Ostuni, Trani, Polignano a Mare, Gallipoli, Otranto.